ABOUT US
WindStrom introduces itself.
The WindStrom corporate group was established in 1992. We plan, build and operate wind farms in Germany and throughout Europe. Since then, WindStrom has implemented 469 wind energy plants with a total output of 1024 Megawatt.
The WindStrom group of companies provides all the necessary services associated with running a wind energy plant – from selecting the location through to constructing and operating. Our services also include help with dismantling and repowering of turbines. A growing team of currently 50 staff will provide you with the relevant know-how. In case of more complex processes, we can count on a network of external advisers, consultancy firms and assessors.
When undertaking a new project, WindStrom is committed to collaboration based on partnership from the very start in order to protect the interests of everyone involved, thereby ensuring short construction phases and swift commissioning of the wind farms. Our employees know the local situation and people and have built excellent networks over the years.
The WindStrom corporate group now comprises WindStrom Erneuerbare Energien GmbH & Co. KG, which is responsible for the planning, building and financing of wind energy plants, WindStrom Service und Betriebsführungs GmbH, which is concerned with the commercial management of plants and ENERTRAG WindStrom GmbH for technical management.
WindStrom is also promoting growth of wind energy beyond Germany with its own project offices. In France and Poland, we adhere to our philosophy of local networks and proximity to customers. Further projects are being planned.
Contact us if you are interested in finding out more.
Strategy
Long-term local engagement
We are convinced that the use of wind energy needs to be in harmony with nature and people. At the same time, we think that our economically successful projects serve the purpose of climate protection and will therefore sustain the test of time.
For that reason, we in the WindStrom corporate group have decided that we will focus on operating the wind energy plants we have built.
That means we will take responsibility for the plants, either on our own or – depending on the local circumstances – together with local authorities, estate owners, and plant operators (in case of a Repowering project), and therefore act as point of contact over the whole operating period of the wind farm.
That way, we can assure a continuing professional management and the implementation of previously established goals over the long term.
We are convinced that this strategy allows us to be an even more reliable partner for all parties involved in the project.
Team
The people at WindStrom
Our team is almost fifty people strong and will work on its tasks with expertise and commitment. Professional quality as well as partnership and mutual respect are our top priorities.
We are looking forward to working with you.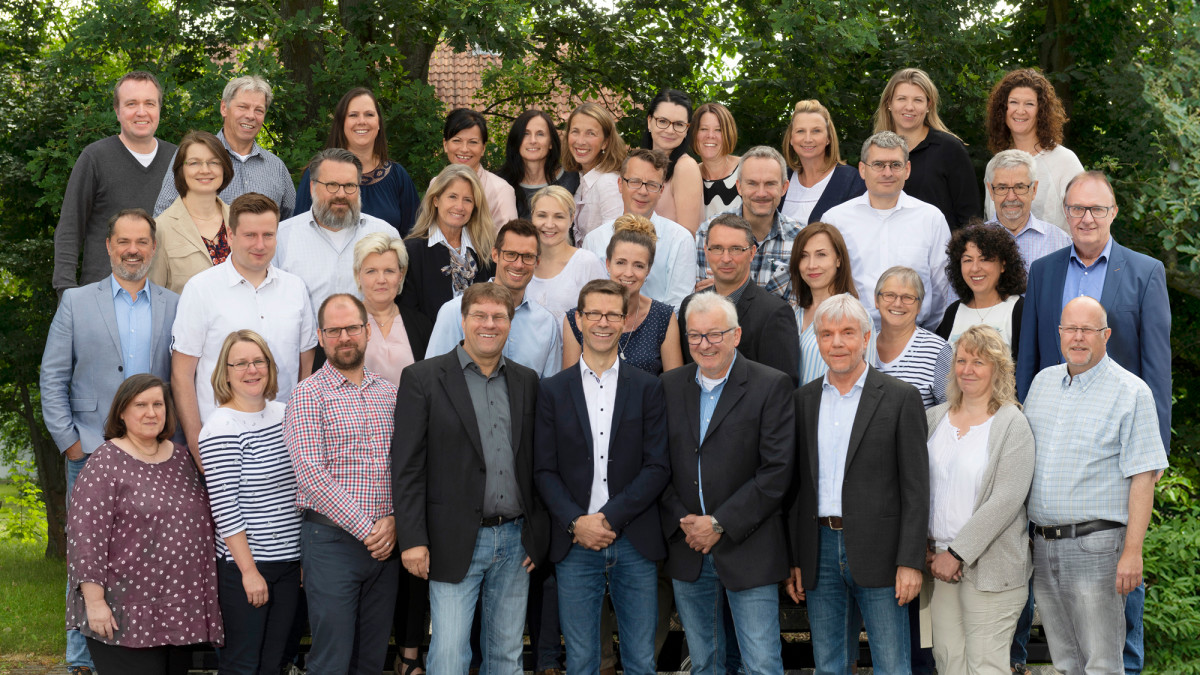 Working for WindStrom
On-shore wind energy is one of the most important sources of renewable energy today. A future without wind energy is not likely to happen. The projects are challenging and complex, and just as versatile, attractive and sustainable is our work here at WindStrom.
There are no current vacancies but we would appreciate your unsolicited application. Please feel free to submit a PDF to the following address:
WindStrom Erneuerbare Energien GmbH & Co. KG
Am Torfstich 11
31234 Edemissen